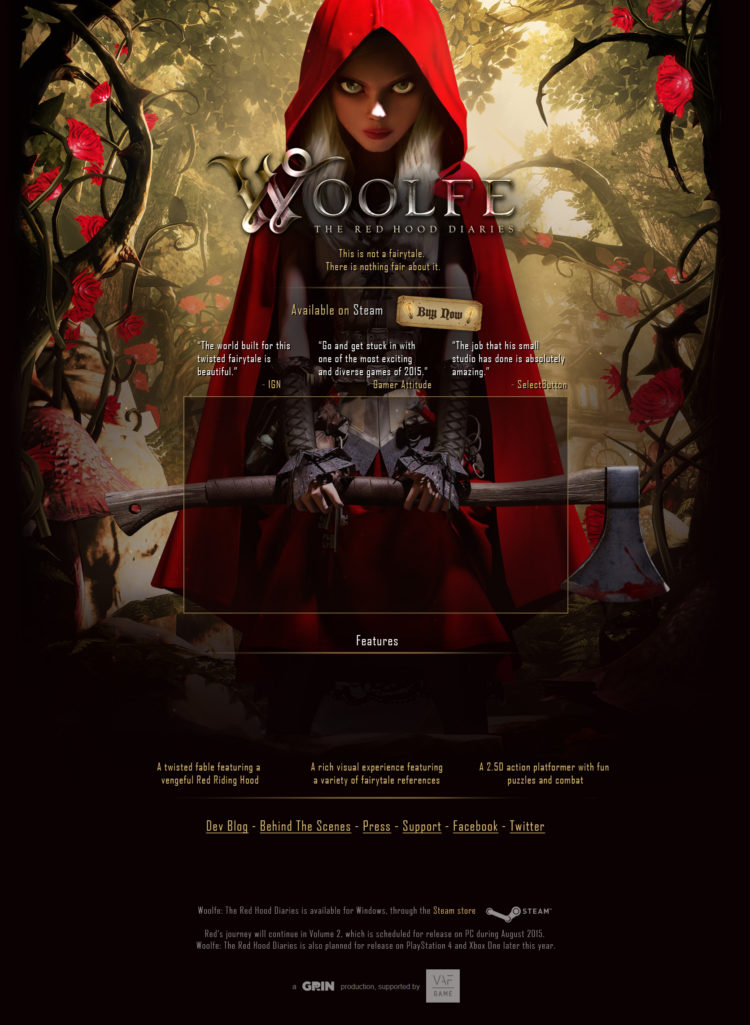 Woolfe – The Red Hood Diaries
March 17 2015 – Antwerp, Belgium /… Developed by GRIN Studios, Woolfe: The Red Hood Diaries is a cinematic fable featuring a vengeful Red Riding Hood, launching with a picnic basket full of fury today on Steam for PC. To commemorate the launch, GRIN has released a new gameplay trailer.
Woolfe: The Red Hood Diaries is a surprising take on the classic tale as you know it. All grown up, cried out and armed with an axe, our heroine Red Riding Hood embarks on an odyssey to avenge the death of her parents at the hands of nefarious corporate giant B. B. Woolfe.
Get ready to take Red on an epic journey with good old-fashioned action platforming, fun combo-based hack 'n slash combat and rewarding environmental puzzles that explore this grim fairy tale fantasy universe.
GRIN's founder and CEO Wim Wouters said: "Woolfe: The Red Hood Diaries has been a labour of love for the GRIN team and we are excited to pass the control pad for our unique interpretation of the Red Riding Hood myth to the gaming world."